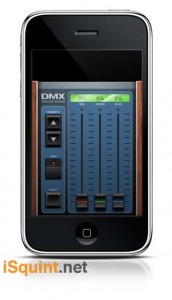 I just heard about a new iPhone app that was released from 40oz Apps, DMX Color Mixer. You might know one of their other iPhone apps for lighting, DMX to Dip. 40oz Apps create simple and easy to use iPhone apps not only for lighting people, but also a couple BAC calculators for those who have party a little to hard.
DMX Color Mixer is exactly as the name suggest, a color mixer that is able to produce the intensity level or DMX levels of an RGB color.  Pretty simple right?  Here is more from 40oz Apps.
This super simple app is a reference for setting color values in DMX setup.  Simply move one of the three faders to see how it affects the color at the top.  You also can scroll through presets to see what values are used for common colors. [white, black, purple, magenta, blue, aqua, green, yellow, orange, red, amber].  The "DMX"toggles between DMX values (0-255) and percentage values, (0-100).  The reset button resets all values to zero.
Nice little app for what it does.  It really has a nice look to it and gives the feeling of a console.  What I would like to see is give me another option to mix colors.  The faders are RGB, or Red, Green, Blue.  How about adding a toggle switch to allow us to mix in CMY mode and HSV mode?  Just a thought.
DMX Color Mixer runs .99 cents in the iTunes App Store.  For more information about the app or any of the other apps that 40oz Apps developed, visit their website at www.40ozapps.com.
Share

Comments