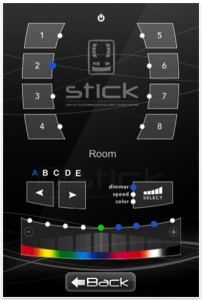 Lightingsoft AG recently introduced the release of the STICK Remote app for the iPhone and iPod Touch. If you didn't know, a STICK controller or "Sunlite Touch-sensitive Intelligent Control Keypad", is a stand alone wall-mounted DMX controller designed for architectural lighting and much more.  Learn more about the STICK remote by visiting Sunlite's web site, www.nicolaudie.com.
So back to the app… The STICK Remote app allows you to control your STICK(s) remotely from anywhere in your building. Simply connect to your wireless local network with your iPhone or iPod Touch, the app will automatically find all the STICKs and allow you to control them all at once. As an added security feature, you can set individual passwords for each STICK to prevent unauthorized access.
With a simple and intuitive graphical interface you will be able to control all your DMX fixtures easily, without any technical knowledge. Triggering scenes and changing the speed, color and intensity has never been so simple!
The STICK Remote app Requires one or more STICK Remotes with the COM+ option, as well as a Wi-Fi router in able for the STICK Remote app to function.
The STICK Remote app is a FREE download from the iTunes App Store.
Share

Comments