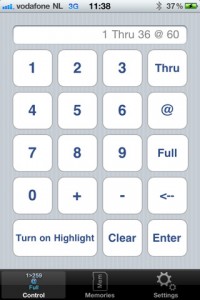 A new lighting app has hit the iTunes App Store, FocusRemote.  Developed by Bart van Stiphout, the FocusRemote app is designed to do exactly as the name of the app says, focus lights remotely from our iOS devices.
FocusRemote uses the WiFi connection of your iOS device to connect to a wireless access point connected to your lighting network. The app send Art-Net signal via WiFi directly to your Art-Net capable system or to an Art-Net node that can input DMX signal into your rig.
FocusRemote has the ability to send a complete universe of Art-net over the network to bring address to a level for checking and focusing.  Only one universe is selectable at a time, but you have the ability to select from all 255 Art-Net universes right in the app.
FocusRemote handles channel/address selection a little differently then some of the other Art-Net controller apps on the market as it uses a command line syntax which is typically found of lighting desk. The app also has the ability to record memories or cues for quick recall, but lacks the ability to execute on timing.
I have had a chance to play a little bit with the app and feel that there are some things missing like the cue timing, but you have to remember the name of the app FocusRemote.  The app is designed to aid and help when focusing a plot and not run a show, that is what your lighting desk is for.
As for the price tag of $11.99, is it worth it, it really depends on your situation.  If you are looking for a remote focus device that fits in your pocket and has the ability to work with any lighting network out there, then FocusRemote would be right up your alley. $11.99 is a small price to pay for a Remote Focus Unit that is universal and works on your iOS device that you probably already own.
You can download the RemoteFocus app from the iTunes App Store for $11.99.
Share

Comments