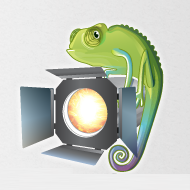 Over the weekend I heard of a new Mac specific lighting control software package called Chameleon.  I am excited to see another Mac specific lighting control surface.  For years, controlling lights on a computer was limited to Windows computers, times are a changing and changing quickly!
Here is more about Chameleon:
Chameleon is a versatile, easy-to-use lighting control application for Mac OSX. It uses the DMX512 protocol, which is widely used for stage and effects lighting. It is meant to look and feel like a physical lighting desk used by professionals.
Features of Chameleon
Simple to learn and use but powerful enough for a pro.
Built from the ground up for Mac OSX for unbeatable performance.
Download now and try for free.
Available with a range of licences so you only have to pay for what you need.
New features are being added all the time.
Designed in collaboration with lighting professionals to work like industry standard pro lighting desks.
You can download and try Chameleon for free then purchase a license on their website at www.maclightingsoftware.com.
Share

Comments