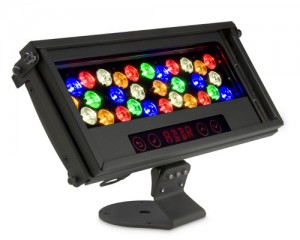 Do you like the Color Kinetics ColorBlast?  Who doesn't?  It's small, portable, powerful and does uplighting beautifully. The ColorBlast just got better.  Color Kinetics introduced it's latest version of the ColorBlast, the ColorBlast TRX.
The ColorBlast TRX adds two more colors to the fixture making it an RGBAW LED wash fixture. In addition to the Amber and White LEDs on the fixture, Color Kinetics added on board DMX addressing! No more addressing at the power supply, it on the fixture, YEA!
The on-board touch-sensitive menus offer direct access to all on-board functions. Fixture self-test visually confirms proper fixture operation, while diagnostics display information such as serial number, operating temperature, and input voltage.
The ColorBlast TRX has a lumen output of 1577 with a 10 degree beam angle compared to the ColorBlast TR at only 960 in a 10 degree.  Don't expect the ColorBlast TRX to die out any sooner, the LEDs are rated up to 80,000 hours and still just draw 50 watts of power. With all of these awesome numbers, you would expect that the fixture would be larger then the original ColorBlast… wrong, the TRX is just slightly bigger by half and inch on each plane!
The ColorBlast TRX still requires a Color Kinetics Power Supply to operate the fixture. And just like the original ColorBlast, all sorts of accessories are available such as barndoors, tops hats and louvers.
To learn more about the ColorBlast TRX, head over to Color Kinetics website at www.colorkinetics.com.
Share

Comments