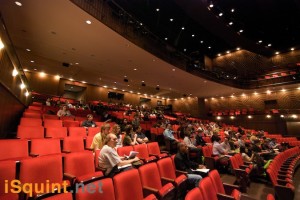 I trust everyone had a nice long and restful memorial day weekend!  I would say mine was nice and long, but no where near restful as it was a weekend filled with work. Last week, was the Broadway Lighting Master Classes in New York City.  You may have heard me mention this a couple of times already, well, I have more for you.
If you attended the BLMC, you may have seen me there, I was the geek at the head of the class taking notes, photos and in awe.  I had an amazing time at the classes.  First, it was awesome to talk about theory of lighting and leave all of the technology out of it for a bit and get back to the meaning and art of lighting, so inspiring!
On top of attending some great sessions by leading Broadway lighting designers, I also got a chance to mingle with other attendees and talk even more about lighting.  Normally when I talk about lighting, the conversation ultimately ends up talking about technology and new products.  This was not the case for most of my time at the BLMC. Other attendees and I talked about the arts and science of lighting or about what we just learned in a particular session.  I still get goose bumps thinking about some of the wonderful talks I had with other attendees!  I did get a chance to talk with almost all of the manufacturers at the showcase during lunch breaks and witnessed a couple of new products making their way to the market.  I'll be writing more about those products in a bit.
One session that I do have to point out is Don Holder's LEDs vs Tungsten.  Mr. Holder setup two scenes that were identical. Stage left was lite by tungsten sources and the stage right lite by all LED fixtures.  The goal of Mr. Holder's session was not to convince you either way about what type of fixture to use, but to compare them to each other and see how closely they can match.  Mr. Holder created the scenes first with the tungsten sources and then tried to match the levels, looks and colors with LED fixtures. It was pretty impressive how closely they matched. Will we be seeing a show in the near future entirely lite by LEDs?  Maybe, the goal of the session was for you to see what they can do and find the correct fixture for your situation whether that be an LED or tungsten source.
Overall, I had an incredible time at the Broadway Lighting Master Classes last week!  A huge thank you is in order to Live Design for inviting me!  I would highly recommend the BLMC to anyone that wants to listen and learn more about lighting design for Broadway and increasing their understanding of lighting design.
Share

Comments