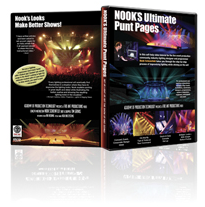 The Academy of Production Technology announced the pre-sale of Nook's Ultimate Punt Pages training DVD.  The DVD is designed to instruct lighting programmers on punting, (or busking as it is called as well), which is the process of running a show "on the fly".
Industry lighting designer/programmer Richard "Nook" Schoenfeld guides viewers through the process of a universal punting method – step by visual step – in a two-hour DVD tutorial, "Nook's Ultimate Punt Pages."
The session, Shot and Chopped by Fire Ant Productions' Tim Grivas, features Schoenfeld showing console set-up to allow for quick, easy lighting looks using just a few presets with transparencies.
The special pre-sale pricing on the DVD is available on the website at www.ultimatepuntpages.com. Full pricing goes into effect with the DVD's scheduled release in October. For more information on other Academy of Production Technology training tools, visit www.productionseminars.webs.com.
About Richard "Nook" Schoenfeld
Schoenfeld, an industry lighting designer/programmer for more than 20 years, heads a team of lighting, set and video designers specializing in live music, trade shows and corporate theater in his company Visual Ventures Design.
Share

Comments