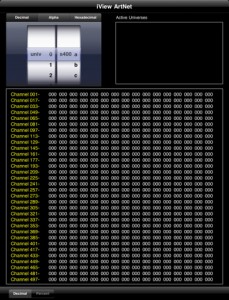 iView ArtNet allows you to view channel levels for Art-Net data that is present on a Wi-Fi network. Note: a Wi-Fi connection is required for this app to work.
Active Art-Net universes present on the current Wi-Fi connection are displayed in a list. The universe to be viewed can be selected using decimal, hexadecimal, or alphabetical notation. Additionally you can select the System ID for a PRG Series 400 distribution system (always select System A if not using a Series 400 system). Channel level values can be displayed in decimal or percent format.
iView Art-Net will receive either broadcast or unicast data, but does not respond to ArtPolls. You must manually configure your transmitting device, wireless access point, and iPhone/iPad to ensure proper communication.
What are you waiting for, add iView ArtNet to your iPhone, iPod Touch, iPad NOW! It is a totally FREE APP in the iTunes App store, go grab it now.
Share

Comments