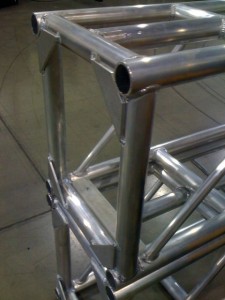 Just when you thought that there couldn't be any new developments in truss design, Tyler Truss says think again.  While Tyler Truss is hush hush about this one, a little birdie snapped a photo of a their new stackable truss design.
Looks like the design is about 20″ x 16″ with a center cord for even hanging of the truss.  This is totally a Tyler Truss design with the center cord.  No more having to even out the span set bridle every time you change the load to level the truss. Pretty innovative when you think about it.  Super simple solution to a long time "issue" when dealing with truss.
Since LDI is right around the corner, I guess we'll have to wait till then to hear more. Maybe Tyler Truss will say more before then on their up coming blog.  Stay tuned, information should hit the street soon.
Share

Comments