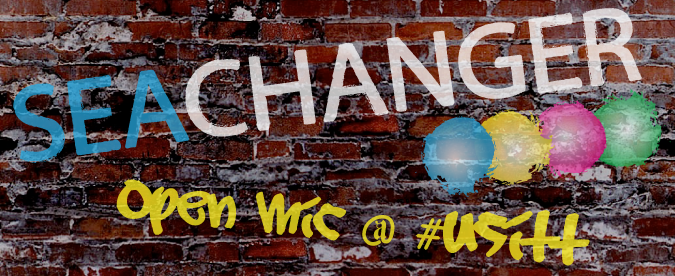 This years Conference and Stage Expo is going to be one huge party and learning fest to help celebrate the 50 years for USITT.  SeaChanger is adding to the fun by having an Open Mic Contest in their booth at USITT. Following the American Idol method, SeaChanger would like to see or hear your 5 minute "audition" before USITT.  You can submit your routine to SeaChanger via almost ANY media to SeaChanger by Skype, Email, YouTube, Phone… any way you can think of getting it to SeaChanger.
At USITT, performers will have a 5 minute spot at the SeaChanger booth to perform their routine which will be video taped.  All entries will be loaded to the SeaChanger web site where we will have a chance to vote on the winning routine.  Voting on the entries will be open to the public until April 15th, Tax Day!  Everyone that performs at USITT will receive a SeaChanger t-shirt and the ever famous USITT 2010 edition SeaChanger Duck.  The winner, chosen by the public, will be featured on the SeaChaanger web site and win not only a ColorBUG but an iPod Touch as well!
So how do you get in on the action? Contact/Send your 5 minute routines to SeaChanger by Contact Beth Weinstein.
Twitter: @SeaChangerET
Skype: SeaChangerET
Email: Beth.weinstein@oceanthinfilms.com
Phone: 727-545-0741
Yes Mrs. Beth, You will be missed at USITT. But have no fear, Photos and Videos will be posted just for you!  And to help get those creative juices flowing, I have included a couple of YuoTube videos to spark your creativity.
Share

Comments