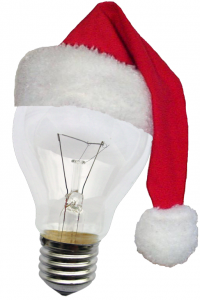 Want to join in on some squinting fun?  There is still time to join in on the Secret Santa Present Exchange!!! This time tomorrow, 5pm est, is when I am closing down entry into the Secret Santa.
So what is a Secret Santa Present Exchange?  Well, THIS ONE is where we fellow lovers of lumen come together and show each other how much we care and love each other by way of a small gift.  Of course presents and gifts are not the TRUE meaning of the holiday season.  But come on, who doesn't love getting a little something special from a fellow beam bender?
The rules are simple this year.  You can only spend $5 USD on a present, not including shipping.. which should hopefully be cheap.  Why the $5 limit?  My hope is that you use that to make something extra special for your Secret Santa.  I always love getting hand made presents, even if it is a card! It's more meaningful and special… to me at least! ;)
So hurry up and get your name, email address and mailing address over to SecretSanta@isquint.net.  There is a huge list so far and some pretty wonderful people.  I am so excited to hear what everyone gets too! I know my Secret Santa is going to LOVE my gift!
btw: As with any information you supply to iSquint.net, please rest assure that it is safe and will NOT be sold or distributed to any other party.  The only person to recieve your information will be your Secret Santa in order to get you your present.
Thanks everyone that has signed up so far.  Look for an email first thing on Wednesday morning with who you will be getting a special present for.
Share

Comments