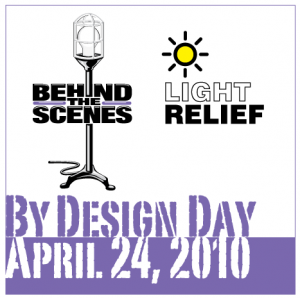 This Saturday is a very important Saturday, it is the ESTA Foundations By Design Day.  Why is it so important? It is a day where professional designers have committed to donating their royalties for the day to ESTA Foundations, Behind the Scenes. Top lighting designers around the world have already committed their royalties to help our fallen or ill brothers and sisters in the industry.
Why not join in on By Design Day? Anyone can contribute to By Design Day even if you do not receive royalties for your work.  Why not contribute your earnings for the day? Any little bit will help fund the Behind the Scenes and help protect and support of friends.
This Saturday, I will be contributing my ad revenue for the day from iSquint as well as a day's pay from my day job to ESTA Foundation's, Behind the Scenes.  This is how I plan to join in By Design Day. I encourage you to think about offering what ever you think you can spare to joining By Design Day and help our peers.
Take a look at the ESTA Foundation's By Design Day to learn more about the charity and how to participate. Show your support of Behind the Scenes and By Design Day by tweeting the following:
@ESTAtweets – I support #ByDesignDay2010, #BehindTheScenes & and my fellow professionals. – http://www.estafoundation.org/bts.htm
What are you still reading for? Get over to the ESTA Foundation site! ;)
Share

Comments