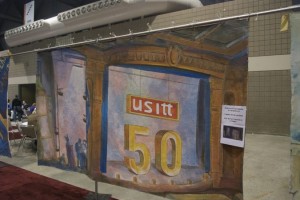 As I travel back to Washington, DC today, I have been doing a lot of thinking about USITT this past week in Kansas City. It has become clear to me that there is only one word that truly describes my entire experience this week, passion, shear and udder passion.
Every single person I meet and talked to this week was extremely excited to be here at USITT. Not only share, but learn and experience from others whether that be in a session or learning about a new product or technology on the Expo Show Floor to learning something from friends and working professionals.
There was real passion behind everyone's eyes about technology in the arts. I found myself talking with students randomly at times on and off the show floor about what is new and exciting. The questions and excitement in the voice was so awe inspiring, it got me thrilled to see the level of commitment and willingness to listen, learn and grow.
John, Tyler, Beth, Travis, Daniel, Ralph, Julie, Tom, Brad, David, Nathan, Noah, Renee, Resse and the many many others I talked to during the week, it was a pleasure to meet you. Keep up the excitement and never let the passion of your craft die. It's enthusiasm like yours that keeps me writing here and encouraged about the future of this industry we all love.
Thanks everyone and USITT, the 2010 Conference and Stage Expo will not soon be forgotten by this guy!
Share

Comments