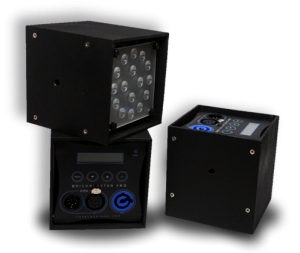 This is a perfect example of how big tradeshows are and how much I miss due to that fact.  A month after LDI, I have been turned on to a new LED fixture that was introduced at the show, the BrickBlaster Pro from The Black Tank.
There are two versions of the BrickBlaster Pro, the RGBW and the Warm/Cool White fixture.  The first thing that stuck me about the fixtures is the ability to transfer the LED boards between fixtures!  Say you need more RGBW fixtures, change out the Warm/Cool White LED board on a fixture, and change it to an RGBW LED board. How cool is that?!
One BrickBlaster is 4″ cubed and draws just 50 watts of power, put puts out 1200 lumens per "brick". Using latest Rebel LED technology and an innovative, patent pending, management system, it is capable of outputting 1200 Lumens cool while doing it.
The BRICKBLASTER PRO can be controlled using two universes of full speed 8 or 16 bit DMX512 or by selecting internal preprogrammed effects using the rear mounted LCD panel. A fixture set in Manual or Color Wash mode will output DMX allowing for multi-light synchronization. These options make the BRICKBLASTER PRO ideal for users with or without an external control source. Additional features include, automatic thermal shut down, flicker-free operation, low noise fan, 120VAC Neutrik Powercon Input, 5-Pin DMX connections, LCD control panel with intuitive user interface, three user selectable tungsten dimming curves and many more.
This BRICKBLASTER PRO is designed to allow for field replacement of key components including the LED module, power supply, control board and fan. The fixture is sold individually or in custom ruggedized, watertight road cases in two or eight pack bundles. To fit all applications, the BRICKBLASTER PRO also comes standard with three different holographic light shaping diffusing films: 20, 40 and 60 degree are included with each light.
I highly recommend jumping over to The Black Tank's website, www.theblacktank.com, and checking out the 2 minute video about the BrickBlaster fixtures.  While there, learn more about the fixtures and how to pick one up.
Share

Comments