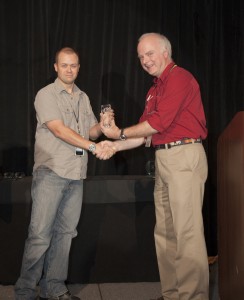 When I read that title, it made me think a minute… Isn't the Lightlock suppose to do the opposite, keep our world from rocking?  Stupid joke, sorry.  But honestly, Doesn't the RSC Lightlock deserve almost every award out there?  How did a mover live front of house on a hung pipe with out this?  Those fellas at RSC are genius, thanks for the Lightlock and congrats guys! Here is more from the Press Release:
The annual ESTA Dinner and Awards Ceremony was the setting for the RSC Lightlock to receive its most recent accolades from entertainment industry leaders. Nominated in the best new product category for ESTA's Rock Our World Awards, the RSC Lightlock was chosen as the product which had the greatest impact on our industry in the last year.
The RSC Lightlock is a motion stabilizing device for moving head lighting fixtures, allowing them to be installed with a minimum of rigging equipment, removing the need for battens or trusses in the system. Its stabilization also allows the RSC Lightlock to be used with pantographs and motorized battens without the inherent movement caused by the moving head fixtures.
In its third year, this Rock Our Worlds program has no real rules. The panel of judges, some of the best known people in our industry, has sole discretion on the number of awards to bestow and the categories to use. This year's judges included Seth Jackson, Tom McPhillips, Bill Sapsis, Brad Schiller, and Jim Tetlow. This group saw fit to select the RSC Lightlock from a group of nominees which included products and projects such as the RevEAL LED Color Wash, the Dee and Charles Theatre build, the chandelier install at the Margot and Bill Winspear Opera House, and the Shanghai Expo Opening Ceremony. To be named one of the winners for this year's award demonstrates how revolutionary the RSC Lightlock truly is.
Learn more about the RSC Lightlock by visiting their website at www.rsclightlock.com or the US distributor, Total Structures website at www.totalstructures.com.
Share

Comments