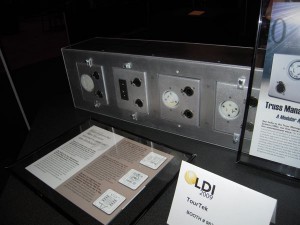 Back at LDI 2009, I got a chance to see some great new products, one of which is the Truss management System from TourTek.  If you have ever ran cables over truss, you know how much "fun" it can be.  Not only do you have to make sure that you fan outs are at the correct location for you lights, but you also might need to run DMX cables.  Cables can become a nightmare and quite difficult to track back, replace and even find.
In steps the Truss Management System from TourTek.  They have takeing the need for fan outs, multiple DMX runs and all thee associated cables into a modular system located right on the truss. Think of the Truss Management System as a connector strip found on a line set only much lighter and more configurable.
The Truss Management System distributes your power and data using our pre-wired housing units. They also have easily accessible service panels so you can change your circuits depending on your show or venue. The days of running countless feet of socapax cables down a truss are over. Not only does this save on cable wear and tear but it saves tons of time. Since the housing units live inside your trusses, they are always there. Nothing extra to load in or load out.
The Truss box, (or strip), comes in two sizes, 8′ long with the ability to hold 12 modules or a 2′ section that can hold up to 4 modules. Since you already have all your power circuits and data run all you need to do is pop in your module and plug in your fixture. Bam. Fully wired. Now lets imagine a fixture goes bad and you need to replace it with a fixture that has a different power plug. No problem. Pop in a module with the new type of power plug, attach the fixture and blam-o.
There currently are three types of interchangeable modules, the Edison/Straight Blade, Twist Lock and the Stage Pin modules, all pictured below.

In addition to having a power connection at each module, each module includes a DMX in and out.  Currently, it seems that only RJ-45 connectors are available for data, but I have to assume the 5-pin connectors might be available as well.  Though the TourTek web site does not mention that. To learn more about the Truss Management System From TourTek, visit their website at www.tourtek.com.
UPDATE: I just received a note from TourTek about the RJ45 connection on the modules.
I wanted to quickly clarify how we use the RJ45 connection on the modules and how that applies to the end user. The RJ45 is the only termination we provide on the modules themselves. So if you have a fixture that accepts an RJ45 plug, you're in business with ease. For those who require a 3 pin, 4 pin, or 5 pin DMX connection we include a 2′ adapter. So if you order a module and specify you need 3pin DMX connections, you will receive a Cat5 to male 3 pin and Cat5 to female 3 pin adapter. Those are included as part of the price of the module.
Share

Comments