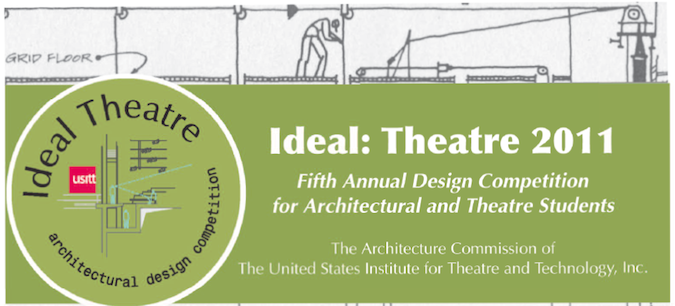 As a lighting professional and lover of the theatre, have you ever walked into a theatre and thought… "What the hell kind of design is this, who designed this place, a blind man"?  We have all been there.  Sitting at the drafting desk, looking over a sectional, "was the architect on crack when he put the front of house pipe there"? I personally have walked in to many, MANY theatre in my day and looked around and thought… really, a box boom there, or seriously, no cove position?
Now is your time.  USITT just announced their Ideal Theatre Architectural Design Competition. If you are either a Theatre student or architectural student, SIGN UP.  The goal of the competition is simple, teamwork.  The theatre student serves are the "client" and the architectural student as the designer.  The goal, create the ideal theatre!  How awesome is that?!
Winners of the 2011 Ideal Theatre Design Competition will be announced at the 2011 USITT Conference & Stage Expo in Charlotte, North Carolina.  If you are either a theatre or architectural student, what are you waiting for, head over to www.usitt.org and get all the goods to enter!
Share

Comments