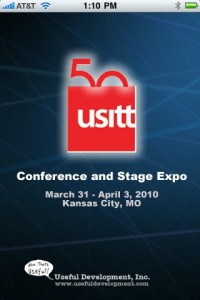 Last week I wrote a Rumor Mill posting about USITT developing an iPhone App for their upcoming Conference and Stage Expo in Kansas City. Theatre Consultants Collaborative, (TCC), has just confirmed this rumor with their latest Press Release.  More from the official Press Release:
Theatre Consultants Collaborative (TCC), an international theatre consulting firm has sponsored an iPhone application for USITT's upcoming 2010 Conference and Stage Expo.
TCC has been working with Useful Development, Inc. (A boutique application development firm), and USITT to push development for this year's conference.  When TCC came to USITT and Useful Development about the project, there was only a short development period for having the application ready to launch on the desired March 1st target date.  Because of this, development of the app has been approached in stages.  The core BigShow™ for USITT application, which releases today on Apple's App Store, includes details on Events and Sessions, as well a News Feed that has the ability be updated by USITT leading up to, during, and even after the conference – throughout the year!
Over the next few weeks, Useful Development will roll out BigShow™ for USITT application updates to the App Store, with planned additional future features to include:
Conference Center and Expo Floor Maps
Stage Expo Exhibitor Details, Contact Info, Product Requests, and Booth Locations
Social Networking integration
The ability to add events, sessions, and meetings to a "Personal Schedule" area of the application
Note Taking with Photos
Share my conference experience
…and some other really useful things we hope to implement as well!
Perhaps one of the coolest things about the application, however, (aside from it being totally FREE) is the way data is handled in the backend.  Unlike other applications that are constantly going out onto the net, looking for a server to feed them information, Useful Development has built a lightning-fast backend for BigShow™ that loads data on launch, and looks only for updated changes.  What does this mean, you ask? This means you get to take the conference with you, even to places without WiFi, 3G, or Edge Networks!  BigShow™ for USITT makes sure you always have your schedule handy – whether you are an international iPhone user who just can't get enough bars at the conference, or an iPod Touch user who can't find a solid, or free WiFi connection.   So – "no service" means "no problem."  The next time you open the app with internet availability – at the hotel, or in a coffee shop, or on the street – you'll instantly get all the new updates to-go!  We hope you'll enjoy using the application and additional features as they are rolled out.
As the Press Release mentions, the USITT App is a FREE download from the iTunes App Store.  If you are attending the USITT Conference and Stage Expo towards the end of the month, it is highly recommend that you download the app as you'll have the conference schedule at your finger tips.
Share

Comments