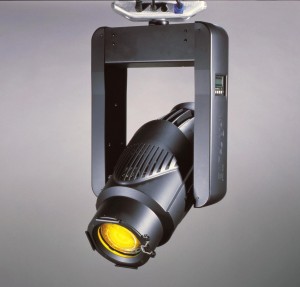 I got super excited when I saw this email hit the inbox, Vari-Lite shipping new fixtures?!? What did I miss?!  Turns out Vari-Lite re-tooled and configured the VL500 Wash and VL100 ERS fixtures with design enhancements and eco-friendly technologies and gave them updated part numbers.  Here is more from the official press release:
Philips Vari-Lite is proud to announce that the new VL550 Wash and Vl1100 ERS luminaires are now shipping. Updating the current VL500 Wash and VL1000 ERS luminaire models, the new VL550 and VL1100 series have undergone design enhancements to provide a more quiet and smooth operation, while maintaining the same power and performance of their predecessors. Plus, each series now offers a 315W ceramic discharge lamp model, further demonstrating the Philips Vari-Lite commitment to being a market leader in eco-friendly lighting technology.
The VARI*LITE VL550 Wash luminaire is still based upon the Emmy® Award-winning VL5 Wash luminaire, but with significant design improvements, including a 50 kHz. drive system that quiets the operation of all two-phase motors in the fixture during movement
and while in static positions. This luminaire is now available in the VL550, VL550D, VL550CD, and VL550 80V models. The VL550CD model utilizes a 315W ceramic discharge lamp that offers the color temperature of tungsten, a high CRI, and an incredibly long-rated lamp life of 8,000 hours.
The current VL500A luminaire model is now being discontinued, but will continue to be serviced and supported by the Philips Vari-Lite customer support team.
As the next generation of the VL1000 ERS luminaire, all models of the VL1100 luminaire will also have a new 50 kHz. drive system that quiets the operation of all two-phase motors. Additional enhancements include new, three-phase, ultra quiet stepper motors that provide a smooth, timed continuous pan and tilt motion; and a new central bearing system in the gobo wheel reduces noise and ensures smooth operation. This luminaire is now available in the VL1100 Arc, VL1100 Tungsten, and VL1100CD models. As with the VL550CD, the VL1100CD model also utilizes a 315W ceramic discharge lamp for an 8,000 hour lamp life with more than 8,000 lumens of output, and a high CRI.
For more information on Vari-Lites new VL550 Wash and VL1100 ERS fixtures, visit their web site at www.vari-lite.com.
Share

Comments