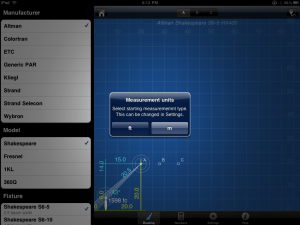 The race for the first iPad lighting App has been won.  Let me re-phrase that, the first iPad lighting app TO MARKET, has been won.  I have heard about a bunch of great idea's for iPad apps as well as seeing a couple of neat beta's.
West Side System's is the first to bring a native iPad Lighting App to the iTunes App store with an update to their BeamCalc App. BeamCalc has been updated to version 2.2.1 for both the iPhone/iPod Touch and the ipad.  The major news with the update is that is runs on the iPad nativity along with 40 additional fixture types, positioning the light source by entering the throw distance for quick calculations, selecting a light by simply tapping the source or target and improved drawing page data display.
More about the iPad version… HOLY MOLEY BATMAN, it is gorgeous! The iPad version takes full use of the larger display.  Very similar to the mail app on the iPad, there is a menu system off the the left that you can quickly change you light source from a different manufacture, fixture type and lamp size.  All of the calculations are updated quickly and displayed on the cross section.
The app runs $14.99 for either the iPhone/iPod Touch and ipad. The update is free for current users.  But is the app worth the money for a new user… I would have to vote yea.  Check out some of the screen shots I took of the app running on the iPad, just awesome! Excellent work West Side!

Share

Comments