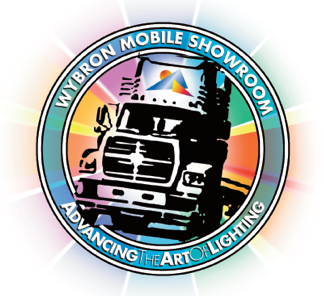 The Wybron Mobile Showroom will return to the road Nov. 15-19, making stops in Illinois, Indianapolis and Wisconsin during the fourteenth leg of its first national tour.
The showroom will make its first stop Monday, Nov. 15 at Indianapolis Stage in Indianapolis, Ind., before heading to DesignLab, Grand Stage and Chicago Spotlight, Inc. — all in Chicago — on Nov. 16, 17 and 18 respectively.
On Friday, Nov. 19 it's off to Clearwing Productions in Milwaukee, Wis., for the showroom's final stop of the month.
Each stop will provide visitors with a hands-on survey of new and classic Wybron gear, including the new Cygnus™ advanced color LED line, as well as a chance to chat with Wybron staff members and enjoy complimentary food.
UPCOMING DATES:
Nov. 15 — Indianapolis Stage, Indianapolis, IN, 9:30 a.m.-3 p.m.
Nov. 16 — DesignLab, Chicago, IL, 10 a.m.-4 p.m.
Nov. 17 — Grand Stage, Chicago, IL, 10 a.m.-4 p.m.
Nov. 18 — Chicago Spotlight, Chicago, IL, 9:30 a.m.-3 p.m.
Nov. 19 — Clearwing Productions, Milwaukee, WI, 12 p.m.-5 p.m.
Share

Comments