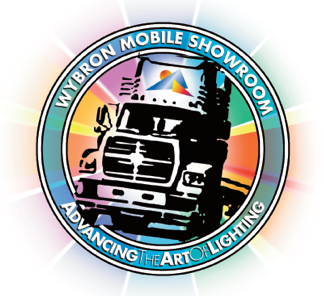 Are you in the west? Phoenix and Las Vegas to be specific?  Check your rear view mirror as the Wybron Mobile Showroom is right behind you and pulling into the west beginning Monday, February 1st!
More from the Wybron Press Release:
Enter the Wybron Mobile Showroom, a custom-built, state-of-the-art enclosure which has become increasingly popular since its inception in October of 2009. The Mobile Showroom presents a survey of Wybron's stable of products, including the new Cygnus LED Wash Light, in a environment more intimate than a trade show. It provides hands-on demonstration of Wybron offerings and an opportunity for tête-à-tête with lighting professionals, including their local dealers. Most importantly, however, the Mobile Showroom offers education on the general theory behind and mechanics of professional lighting to an audience who may be unfamiliar with either or both.
Here is where you can find the Wybron Mobile Showroom next:
Monday, Feb 1 – Phoenix Clearwing
Tuesday, Feb 2 – Barbizon Phoenix
Wednesday, Feb 3 – PRG Las Vegas
Thursday, Feb 4 – 4Wall Las Vegas
Friday, Feb 5 – Advanced Entertainment Las Vegas
Want to catch the Wybron Mobile Showroom in person, give a call to Dusty Hudgin at 719.548.9774 for more information.  Look out Cali, the Truck has it's sight set on you next!
Share

Comments