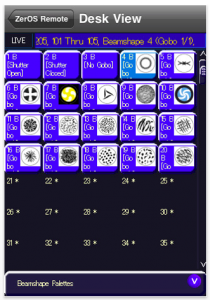 Back at USITT, Peter Kirkup let me in on a little secret about Zero 88's newest "product", the ZerOS iPhone app. Three weeks later, Apple has approved the app for release in the iTunes app store.  The ZerOS Remote App is just what you think it is.  It is a remote focus/console unit that runs on your iPhone, iPod Touch or iPad.  The ZerOS App connects to the Zero 88 line of consoles, the Leap Frog 48, Leap Frog 96, Frog 2 and ORB consoles all over WiFi.
From the ZerOS Remote App, you can manipulate, control, and play back shows right from my favorite handheld device.  From the screen shots provided on the iTunes store, it looks like you can select fixtures via the keypad, control their parameters such as Focus, Color and Beam.  That is if you select a fixture that has those parameters available!
You can also bring up your pallets for those multi-parameter devices and quickly recall the pallets all right from the remote.  The screen shot of the color picker looks pretty amazing as well.
Have a Zero 88 consoles? How about a wireless router or access point?  For $9.99 you have a wireless remote for your Zero 88 console.  Visit the iTunes store to check out some of the screen shots of the ZerOS Remote App and to purchase your copy.
Thanks Peter for the heads up and the review copy to play with!
Share

Comments