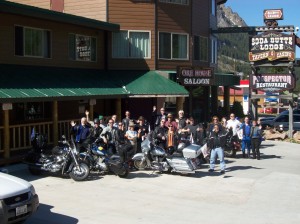 The Long Reach Long Riders are very happy to announce the completion of their 8th annual charity ride. The ride, which benefits Broadway Cares/Equity Fights AIDS and The ESTA Foundation's Behind the Scenes program, began in Billings, Montana on July 2nd and ended back in Billings on July 9th . This year the LRLR raised over $36,500.00 bringing the total raised since they started riding in 2004 to just under $300,000.00.
The top ten things  the 14 riders, 5 passengers and 2 chase cars did this year were:
1) Rode 2,114 miles in 8 days.
2) Looked on as two riders asked their passengers to marry them. A first for the LRLR. (Both passengers said yes!)
3) Did not encounter a single drop of rain. Another LRLR first.
4) Experienced no bike mechanical failures. Yet another LRLR first.
5) Saw numerous wildlife including Bison, Elk, Brown Black and Grizzly Bear, Deer, a Coyote (although some argue that it was wolf), Bald and Golden Eagles, several Osprey in their nests and two unidentified animals that ran in front of, but did NOT get hit by, Greg's bike.
6) Changed altitude by over 7,000 ft. including a trip over Bear Tooth Pass at 10,947 ft.
7) Visited three National Parks and a National Monument.
8) Crossed umpteen flooded rivers and passed more snow covered mountains than they could count.
9) Passed out over 1,000 kazoos.
10) Raised awareness of Broadway Cares/Equity Fights AIDS and The ESTA Foundation's Behind The Scenes program at numerous gas stations, restaurants, hotels, scenic overlooks and even while waiting for construction traffic to clear.
The Long Reach Long Riders would like to thank everyone who helped make this year's ride a resounding success. Donations are being accepted up to July 31, 2011. Please visit www.lrlr.org for more information.
The 9th annual (2012) Long Reach Long Rider charity ride will take place in the Pacific Northwest and begin on August 4, 2012. Please check the website in the coming months for route, registration and donation information.
Share

Comments