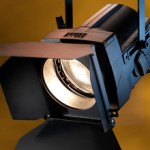 The day we've all been waiting for is finally here.  ETC has announced the Source Four Fresnel.
Part of ETC's new Layers of Light marketing campaign, the Source Four Fresnel is everything you love about the Source Four with a classic Fresnel beam.  Taking the traditional optics and adding a quick-change HPL lamp/base combo along with a glass reflector, the S4 Fresnel is a long awaited addition to the Source Four family of luminaries.
With the intent of preserving the essence of the original, the Source Four Fresnel is designed from the ground up to improve every function of a fresnel while still holding onto that soft, romantic light.  The 20 to 65 degree zoom uses the same locking mechanism as the Source Four Zoom Ellipsoidal.  The lamp is the same HPL as the rest of the line (375w, 575w, or 750w) with a brand new quick change socket assembly.  The yoke has a slide bracket that allows you to set the perfect center of gravity for using all your existing 7.5in accessories.  The color frame slot also has a full length cover to minimize lens light bleed.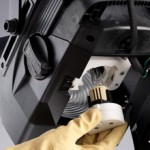 Available to ship in July of this year (can't wait!!!!!), the ETC Source Four Fresnel is the greatest of the Source Four technology married to the the classic beam we all grew up with.  This, my friends is a match made in heaven!
For more information, check out ETC's new Layers of Light website or contact your local dealer for pricing.
Share

Comments