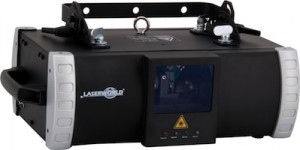 Wireless Solution Sweden AB has entered into an OEM partner agreement with Laserworld (Switzerland) AG, making Laserworld the first company to offer wireless DMX standard in laser technology.
Laserworld currently offers W-DMX as an option for the SwissLas, Purelight, Purelight Blue Beam, Moving Head and Revolution product series. W-DMX will be unveiled as standard at Prolight + Sound 2011 in Frankfurt, April 6-9, 2011. Laserworld will be exhibiting in Hall 11.0, Stand B36.
Laserworld (Switzerland) AG is an important supplier of Showlaser Systems worldwide. Tradition as well as a steady drive for new product innovation are key drivers for the remarkable success of Laserworld (Switzerland) AG. The company offers everything in the laser market from compact, easy to use lasers to professional laser equipment.
Share

Comments