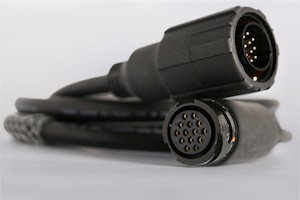 Lex Products announces the addition of Molded 7 and 14 Pin Motor Control Cable to its growing line of EverGrip cable assemblies. Lex's overmold technology provides enhanced safety and durability for critical motor and hoist applications used in Entertainment scenery and rigging. The cables feature 7 and 14 pin Veam compatible quarter turn motor configuration connectors and heavy-duty 16AWG 7 conductor SOOW cable.
The core of EverGrip is a polypropylene premold which provides a mechanical bond between the cable and connector and totally encapsulates the contacts and conductors to prevent the possibility of pushed pins, and broken conductors. Short circuits due to stray wires are eliminated. A solid Santoprene overmold absorbs impact to protect internal conductors and provides enhanced flex and strain relief to extend cable life.
Standard length cable assemblies are available from 5ft. thru 200ft. Custom cable lengths and cable labels can also be specified. Lex can also retrofit new EverGrip molded connectors to your damaged motor cables, extending the life of your cable.
To help reduce potential losses do to mixing of dealers cable on job sites and to increase dealers brand identity, the customer's name or logo can be molded into each connector body for a nominal charge.
Lex offers a 5 year limited warranty on EverGrip molded male and female connectors. Lex also molding of names and logo's on the connectors of the cables. To learn more about the new Molded Motor Control Cables, visit Lex Product's website at www.lexproducts.com.
Share

Comments