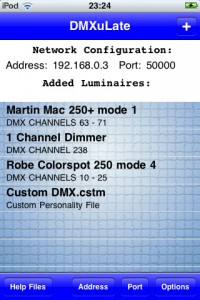 DMXuLate is essentially a wireless DMX remote. It allows for the control of any DMX compatible luminaire(s) completely wirelessly – a very much more affordable and portable alternative to a DMX console!
DMXuLate works by wirelessly sending UDP data containing DMX channel and values. Any wireless router can be used to intercept this data. Help files within the app explain in detail how to convert the data from a router to DMX messages using affordable and open source hardware (a DMX shield and Arduino).
At the heart of the application lies the 'Personality Files' folder, which contains personality files that assign correct DMX channel and values to parameters according to luminaire model. Personalities can be created, edited, and deleted. The 'Custom DMX' function lets the user assign any DMX channel and value for up to nine buttons and six sliders, and allows for the option to load and save Custom DMX files. DMXuLate comes with extensive help files for how to use the app, how to set up the hardware, and links for Arduino code.
DMXuLate employs a clear and effective graphical user interface to let the user control a host of parameters including:
Shutter (open / close)
lamp (on/off)
Dimmer
Focus
Manual Pan / Tilt
Accelerometer controlled Pan / Tilt
Colour step picker
Colour fade
Prism (on/off/rotation)
Gobo control
strobe
For more information or to purchase DMXuLate for $4.99, visit the iTunes App Store.
Share

Comments