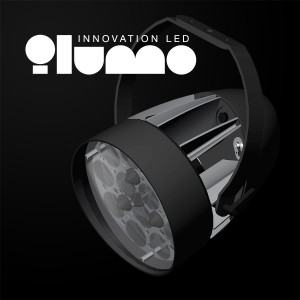 Lumoonic launched a new range of LED lighting fixtures at the PLASA Show, the ilumo range. The product line consist of the ilumo Modular Zoom LED Spot, ilumo Zoom LED Spot, ilumo LED Spot and the ilumo Portable LED Spot.
The company to develop a modular 'Par' fixture with high efficiency, full color LED mixing, remote motorized ZOOM and packed with the following market leading functionality and control. Some of the other features include Remote motorized zoom, detachable LED head, color graphic LCD, custom LED head, color calibrated LEDs, intelligent LED PCB, ethernet enabled, RDM enabled, IR remote enabled head, anti-flicker PWM control, enclosed Wi-Fi aerial, IP rated, optional wireless DMX, thermally efficient design.
The management team leading Lumonic includes Dr James A Powell whose reputation in LED Applied Technology is recognized throughout the industry. James's technology created some of the most innovative lighting products to hit the LED Entertainment market in recent years. It was his electronics, software and LED technology that was behind both the iconic '1044' and Par 90 products.
More recently James's electronics technology has been behind the LED lighting used for U2's 360° Tour and Celine Dion in Las Vegas. You can learn more about the ilumo range of products by visiting their website, www.lumonic.com.
Share

Comments