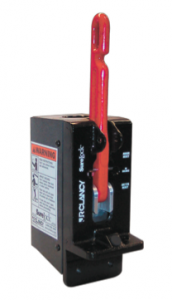 Counterweight rigging system runaways can be a serious problem backstage. The SureLock is an effective way to prevent runaways.  To try out the SureLock, contact your local JR Clancy dealer to try it out in your space for 60 days.
This is a great upgrade for existing counterweight systems in schools. Offering customers a free trial (possibly as part of an inspection) is a great way to promote safety.  Call us if you'd like to borrow one.  Additional SureLock information can be found at www.jrclancy.com.
When you are at a theatre that has had a runaway, it's time for a training session and to explain why buying SureLocks could be a sensible investment in safety.
The SureLock is part of a complete safety plan. For more information on safety plans, visit www.promotesafesets.com for information on "Train – Inspect – Maintain".  This site has a great deal of good information, and suggests that end users take a look, especially to assist them in developing their own plans.
A functional loading gallery and proper training are essential for all manual counterweight rigging systems, including systems with SureLocks.
For more information, or to test drive a SureLock, contact Eric McAfee or your local JR Clancy dealer.
Share

Comments