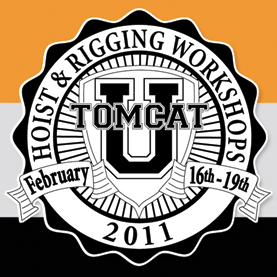 TOMCAT's 2011 ETCP Hoist & Rigging workshops are less than 3 weeks away, February 16-19 in Midland, Texas.  Registration is still open for those interested in improving their skills and prospects for 2011 and beyond with training on chain hoists or rigging principles. The schedule is finalized and includes a team of world-class instructors to provide a hands-on-learning experience to production professionals across North America. More information on the workshops in Midland can be found at www.tomcatglobal.com.
The Hoist & Rigging workshops schedule includes instruction by respected and recognized leaders in the industry. Both training tracts include instruction on truss design, usage and theory with Will Todd, TOMCAT USA's Product Support Manager.  Keith Bohn, TOMCAT USA's Custom Projects Director, will lead a session on design and safe use of ground supported structures.  The first day of training will conclude with an introduction to entertainment automation by Kevin Taylor, CEO of Stage Technologies.
Attendees in the Hoist & Truss tract will start with a training session on hoist control systems let by Kevin Taylor of Stage Technologies.  Participants will then get dirty with Dave Carmack of Columbus McKinnon, who will provide hands-on motor instruction including teardown, re-assembly, maintenance and live troubleshooting.  This group will conclude its training by taking CM's certification exam.
In the Rigging & Truss workshop, ETCP certified rigger and instructor G. Anthony Phillips of RigRider Rigging Services will teach safe rigging practices and principles, while Morgan Neff, Fall Protection expert will instruct on safe fall protection practices. Participants will also have the opportunity to put these principles into live practice.
Share

Comments