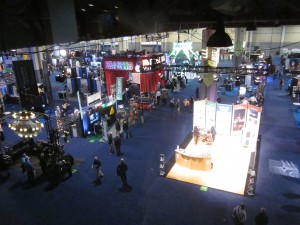 If you're going to pay for a conference like USITT, there is no reason not to go to as many sessions as possible. All the students I talked to have spent the last two days running from one session to another, trying to get the most out of their time in Charlotte. I've asked a bunch of students to tell me what they think of the sessions so far, and they all seem to have the same idea of the ideal structure. When trying to identify a good session, storytelling is good, but only if its humorous, and having enough information to fill the time slot is crucial. The presenters, much like any college professor, have to be interesting and fun to hold the attention of an audience, no matter how important the information they're presenting is.
In my opinion, the best sessions are those that are not only engaging, but cater to the interests of multiple disciplines. Lighting for Costumes, Makeup, and the Multi-Ethnic Cast in particular is a session that I wish I could have made, as I have heard from both a lighting designer and makeup designer that it was phenomenal. It apparently had it all, a humorous presenter, enthusiastic audience participation, and information that could be valuable and interesting to everyone, not just the lighting designers it was geared towards.
However, in many respects, there are a lot of sessions missing the mark when aimed towards students. We all attend this conference to learn something new, not take a class that's offered in our schools, so the level of the information should be accessible to every student who wants to be involved. From everyone I've talked to, the split between fantastic and going completely over their head is a close one, and there is about a 50% chance that the session will be worth it. Luckily for us, this isn't college, and if you don't get it you don't have to stick around! Head back out to the floor and wait it out, or pop into the next room, a little extra learning never hurts!
So far USITT has been so much fun, and I can't wait for tomorrow when I'll be hitting the floor, chatting with people, and just exploring!
Share

Comments