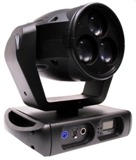 Vari-Lite just introduced two new fixtures to their line up.  The first being the baby brother to their LED wash fixture, the VLX3. The VLX3 is just like it's big brother, only a bit smaller and has three of the LED engines compared to the seven found in the original VLX.
The VLX3 has three, replaceable custom 120 watt RGBW LED chipsets that provide output that offers three times the efficacy of comparable tungsten sources. The total system provides approximately greater than 6,000 lumens of white light output, and 10,000 hour source life of the chip. The luminaire offers 70% lumen intensity maintenance over that time. Head over to Vari-Lite's website to learn more about the VLX3.
Vari-lite also introduced the VL440 Spot moving head fixture. It is small and lightweight with a 400-watt HTI P28 Lok-it! lamp, a zoom range from 15° to 35°, and a mechanical iris for continuous beam control. The VL440 Spot luminaire provides color mixing through its three-wheel CYM color assembly and eight standard colors on a fixed wheel. To learn more about the new VL440 Spot, visit www.vari-lite.com.
Share

Comments