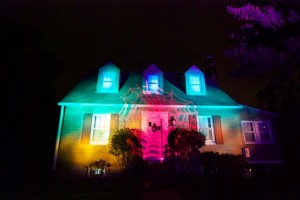 Halloween has to be one of my favorite "holidays" of the year.  Weird thing is I don't do costumes anymore. And if some one does ask what I am, it is always an LD. I think I love Halloween because of the candy! But the really reason, I get to light up my house with all kinds of crazy lights!
This year is no exception   Though Sandy did put a scare in me.  While the storm didn't do any damage, I did lose power for 24 hours. Turns out, we got power back just in time the day before Halloween! Talk about scary!
This year I pulled out all the stops. At least what I could in just a weeks worth of planning.  While I had a few lights, I needed to "upgrade" this year and get some movers. In comes 4Wall to save the day! Not only did they have the movers I was looking for, they had a fogger from a rental that was cancelled.  Talk about luck! To top it off, I added a couple LED was fixtures and I was all set.
Then in steps Sandy screwing everything up.  Now my situation was a hell of a lot better then most. So when I say Sandy screwed everything up for me, there are people MUCH worse off. Since Sandy was messing with the entire east coast, 4Wall had their own problems and employees safety to worry about over me getting a rental. So I can't and won't be mad for missing my pick up day. SAFETY FIRST PEOPLE! But the following day… They were open with a limited staff and ready to help. LOVE IT!
So, in a mad dash, I got everything hooked up, made some looks, programmed some effects and building looks. This year, the main feature was Michael Jackson's Thriller!  I REALLY wish I could show off the "show", but alas… the video recording SUCKED! Sorry gang!  But the pictures turned out!
The Setup
All of the music and sound effects were ran off Arkaos Media Master running on one of my computers in the house with the speakers blarring out the windows. Control wise, I TECHNICALLY had two consoles running.  In the house was a computer setup with grandMA onPC running as the server and then my laptop out in the lawn running as a client with the grandMA onCommand PC wing and an Elo touch screen. This year I dabbled in wireless DMX thanks to Lumen Radio and there awesome little Flex units. Let me tell you, setup was easy… load out even easier, NO CABLES… well, LESS cables.
All and all, it was a boat load of fun!  The neighborhood loved it and I get a kick out of the kids playing in the fog and trying to "catch the color".  There has already been talks about out doing it again next year.  I just might have to step into 3D mapping! Time to start planning for next year!
A huge thank goes out to 4Wall Lighting DC for the help and going above and beyond even when disaster strikes.
The Gear
2          grandMA2 onPC
1          MA onPC command wing
2          Elo iTouch 23" monitor
2          Pathway Uno Node
2          Lumen Radio CRMX Nova Flex
1          Arkaos MediaMaster
2          Martin Mac250 Entour
3          Chauvet ColorADO 1 Tri Tour
1          ETC Source Four 750w 36degree
1          Pixel Range Pix60
1          Pixel Range PixelPar 40
1          Rosco Delta3000 Fogger
Share

Comments