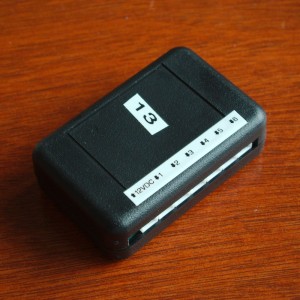 The awesome tinkering elves over at Trinculo's Attic have been up to it again.  They specialize in small and embedded electronics and gadgets for the technical theatre market.  Their latest product, the Wireless DC Dimmer Pack adds to their arsenal of creative components at cost effective prices.
More about the Capulet Wireless DC Dimmer Pack:
It is a DMX-controlled wireless DC dimmer pack. This 6-channel remote dimmer pack is intended for use in combination with the Trinculo's Attic Wireless Base Station, which receives DMX from a control console and transmits the DMX to the Capulet.  Up to 16 Capulets can be controlled with a single Wireless Base Station, with an option for up to 32 Capulets in certain situations.
The Capulet is specifically designed to be very small and easily incorporated into a costume.  With an input voltage range of 3.7-12.5VDC, it can easily control 6 channels of LEDs, EL wire, motors, MR16 lamps, or a variety of other DC loads.  The wireless range on the Capulet is around 100 feet line-of-sight, allowing the costumed actor or dancer to travel virtually anywhere inside a theatre and still receive the DMX signal.
Capulet Specs:
Size:  2.50" x 1.63" x 0.80" (outer case dimensions)
Weight:  2 oz.
Range:  100' line-of-sight to base station
Input voltage range:  3.7VDC-12.5VDC
TheCapulet Wireless DC Dimmer Pack retails for $150. USD and is available on their website at www.trinculosattic.com. While you are over there, check out their blog.  They recently did a collaborative dance piece that demonstrates the Capulet's wireless dimming abilities in action on a dancer's costume.  Not only does it produce a memorable effect, it also allows for a great deal of flexibility in dimming and cueing, transforming ordinary motions into an artistic masterpiece.    To see more about how the Capulet works, take a peek behind-the-scenes.
Share

Comments