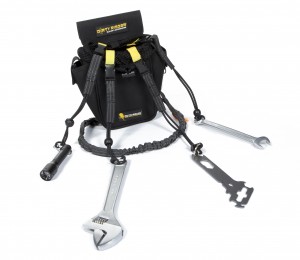 I don't know about you, but I LOVE TOOLS! Maybe it is the testosterone or my XY chromosomes, tools make me happy! I get really excited when the tool is design specifically for lighting. With all of the tools a squint is suppose to carry, it is a pain in the butt to have them dangling from a belt or using those crappy carpenter belt bags. Dirty Rigger… Come on, that is an AWESOME name… has just launched the Octo-Pouch.
The Octo-Pouch kit provides an all-in-one safety solution for working at height whilst handling tools. Not only does it provide a safety system to prevent tools from falling, it also gives you a central hub to store, organize and identify your tools effectively. Comfortable to wear, tough, functional and with the professional appearance associated with all Dirty Rigger products.
Features:
2 x D Rings for tool lanyard connection points
4 x Internal buckles for secure tool storage via lanyard loops
2 x External clips for securing lanyards when not in use
Mesh drawstring prevents tools falling when working at height
2 inch loop connects the pouch directly to any Dirty Rigger® tool belt
Multiple internal pockets for effective tool storage
Durable 600 x 600 denier polyester
Learn more about the Dirty Rigger Octo-Pouch at www.dirtyrigger.com.
Share

Comments