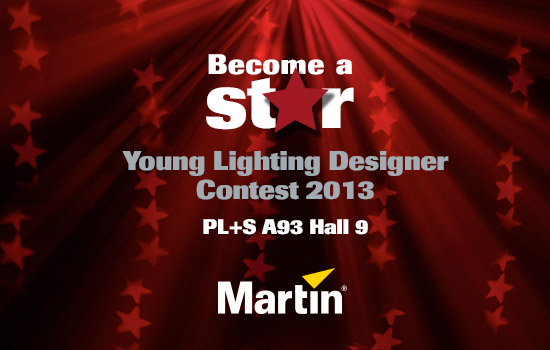 Martin Professional just launched their "Become a Star" Young Lighting Designer Contest for 2013. Martin Professional is offering budding lighting designers and technicians the chance of a lifetime via a Young Lighting Designer Contest for Prolight + Sound.
The prize? A brand new Martin M2PC lighting controller!
The winner of the "Become a Star- Young Lighting Designer Contest 2013" will also be invited to spend a day with the Martin Professional family at Prolight + Sound, getting an up-close look at the latest in Martin innovation and making all-important contact with employees, lighting designers, customers and other lighting professionals.
But that's not all! On the evening of April 11th, the winner will be Martin's special guest at an exclusive Martin Professional VIP party at Frankfurt's premiere live music venue, Gibson Club, Germany's most innovative nightclub where a Martin lighting and video package takes center stage. What's more, the winner will also have the chance to program an upcoming MARTIN Event on an M6, Martin's new professional lighting console, under the experienced instruction of his/her own personal Martin trainer.
There are some rules of course!
NO fully-fledged professionals or complete beginners may enter. Applicants should know what DMX is, how to address a moving light and how to use a lighting console.
The following important conditions also apply in order to take part:
People can only take part in the contest up to 12.00pm on 16.03.2013.
Registered participants must be aged between 18 and 30.
Registered participants must be available between 11- 12.04.2013 to attend the PLS trade fair stand and GIBSON in Frankfurt.
The light show can be programmed using a product from the M-series by Martin Professional.
Only light show videos that have been uploaded by 12pm on 16.03.2013 may enter the contest.
To learn more and to enter the Martin Professional "Become a Star" Contest, visit www.martin.com.
Share

Comments