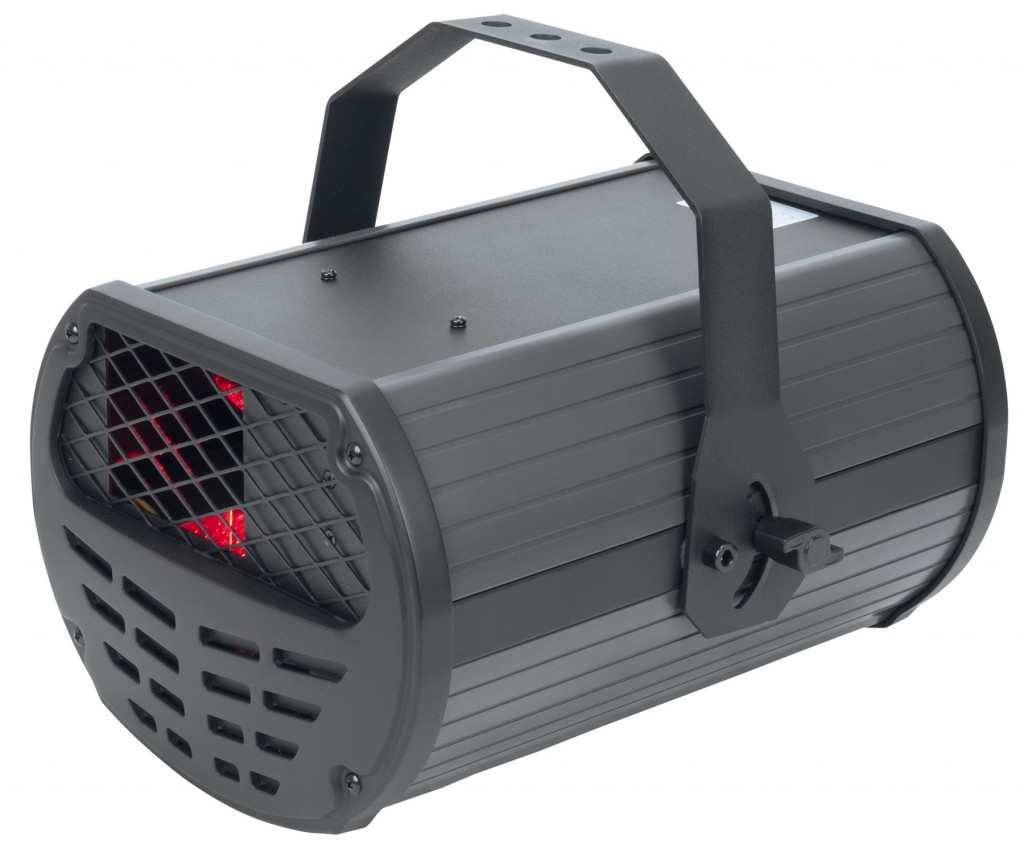 Over the weekend, Elation attended the PRO Show @ BPM in Birmingham England to introduce their latest product to the world.  Those attending witnessed Director of Sales, Eric Loader introducing the Sniper, a multi-effect and laser simulator.  The rest of us, we had to wait the weekend out for the big announcement to make it over the pond. Was this a ploy to get us to attend the PRO Show to see it live and in person… it kinda worked!
Here are more details about Elation Professionals latest product, the SNIPER!
The Sniper is a revolutionary hybrid beam, scanner and laser simulator in one. Emitting a powerful, precise and ultra-narrow 3° beam, a high-speed X/Y scan and Z rotation mirror system allows the Sniper to spread laser-like effects including liquid sky, laser wave, and laser cone effects, all moving at speeds never seen before. What's more, Sniper allows these effects to be projected and "scanned" into the crowd and without the hassle of laser regulations!

"The Sniper is unlike anything that's out there today and we're excited to see the different ways lighting designers will incorporate it into their designs," states Elation Professional Sales Director Eric Loader. "This is not a one-trick pony or a simple 'upgrade' – it does so much more – giving LD's a host of new and varied effect possibilities from a single luminaire. It's available now and we're able to offer it at a price point that is certain to have mass appeal."

The Sniper is the perfect new high-energy effect light for clubs and other nighttime venues and can liven up any stage for tours and special events. In fact, the Sniper has already had its first televised event and touring debut having been used on Big Knockout Boxing at the Mandalay Bay Events Center in Las Vegas in August on DirecTV, and is currently on rock band A Day to Remember's US tour. It's also specified to be in the rig when One Republic kicks off their European tour in October.

Built around recent advancements in lamp, electronics, optics and motor technology, the Sniper is powered by the new 132W Philips™ MSD Platinum lamp (6,000 hour lifetime rating), delivering an intensity of 45,010 lux @ 16.4' (5m). Designers have 14 dichroic colors and 17 static gobos (including beam reduction gobos) at their disposal to create a variety of dynamic effects which can be delivered at lightning speed thanks to the ultra-fast mirror system. The high-precision beam and effects can be multiplied via a 3-facet rotating prism and further manipulated using a variable speed shutter, mechanical dimmer and strobe. The Sniper provides all that power and effect while consuming a maximum of only 205W.

The Sniper is naturally DMX controllable offering 14, 16 and 18 channel DMX modes (18 channel is 16 bit) and includes multiple built-in pattern macros via DMX that make programming even quicker and easier. A 4-button touch control panel and LCD display provide for easy hands-on addressing with easy-to-read fixture menus and messages. Ruggedly built and compact at 14.2″ x 12.0″ x 11.6″ (361mm x 305mm x 295mm) and weighing 21 lbs (9.5 kg), the Sniper will fit comfortably in any rig or installation.

Professional grade Neutrik 5-pin DMX in/out and Powercon in/out connections are included and multiple units can easily be linked together for customizable setups. An auto-sensing power supply covers worldwide voltages and frequencies allowing the fixture to operate anywhere in the world.
Looking to get more details, photos or videos of the Sniper in action?  You have to be patient, Elation will provide them soon enough on their website, www.elationlighting.com.
UPDATE
Share

Comments