Selador introduced two new LED color mixing lighting fixtures this year at LDI in Las Vegas the Lustr and the Paletta.  Just like the rest of Seldaor's LED fixtures, Each fixture uses 7 color LED's to mix any color you are looking for.  Red, Red-Orange, Amber, Green, Cyan, Blue, Indigo.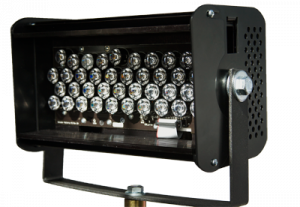 Selador Lustr
The first one is the Lustr which use Selador's patent-pending seven-color LED mixing LED to produce extremely intense colors across the spectrum with natural-looking pastels and white light. What sets the Lustr apart from Selador's other LED products is that it uses 40 Luxeon Rebel 3.5 watt LED's with in each eleven inch length of the fixture. This means that the fixture is pushing out brighter light compared to the Selador X7 line with only 32 LED per eleven inches at 1 watt per LED.
The Lustr fixture is available in lengths of 11″ @ 2.1amps, 21″ @ 4.2amps, 42″ @ 8.4amps and 63″12.6amps.
Selador Paletta
The next fixture Selador introduced was the Paletta LED lighting fixture. Similar to the Lustr, The Paletta uses 40 Luxeon Rebel 3.5 watt LEDs per eleven inches of the fixture.  The Paletta fixture includes proprietary, internal diver system that actively smooth the standard 8-bit DMX input signal to 15-bit dimming resolution for dimming that is up to 128 times greater than other LED luminaries.  Dimming is compatible with all standard video cameras, with LEDs pulsing at frequencies of approximately 1.5KHz or greater.
The Paletta 3.5w fixture incorporate robust thermal-management components to protect the LEDs and prolong their life.  The Paletta like the entire LED line from Selador, are restricted to a max output of the LEDs to 85%-90% percent to also help extend the life of the LEDs.  Through the course of the LEDs life, they are expected to maintain at least 70% of their original light output even after 50,000 hours of typical operation under normal conditions.
The entire line of LED Fixtures from Selador feature 7 Colors to mix almost any color in the light spectrum.  Pictured below is the color spectrum's from a standard RGB (Red, Blue, Green) LED fixture compared to  the seven colors that Selador LED fixtures use.  You will notice that with the seven colors to mix with the Selador, there is nearly a unlimited numbers of visible colors possible (72 thousand-trillion).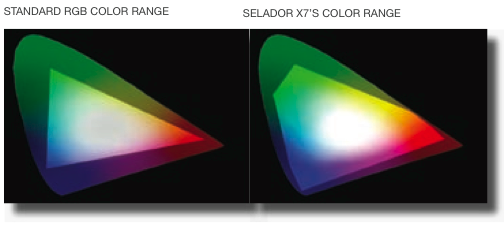 To fins out more about the full line of LED products from Selador, visit their website at www.selador.net.  To find a dealer near you, visit the dealer section of thier website here.
Share

Comments