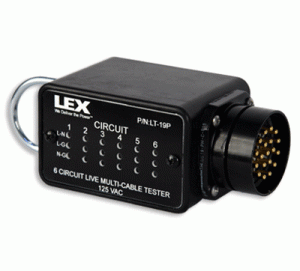 Back during the time of LDI 2008, Lex Products sent us a beta of one of their latest products, the LSC 6Circuit Live Tester. After some testing and industry input, Lex has announced the release of the 6 Circuit Live Tester.
The LSC 6Circuit Live Multi-Cable Tester is the first portable 19-pin tester that tests and diagnoses cabling problems while the cable is still installed. Unlike conventional 19-pin testers which require cables to be tested from both ends, the tester plugs directly into the end of any energized, dimmed or undimmed six-circuit cable.

The LSC 6Circuit™ Live Tester's rugged solid rubber construction is a great addition to any tech toolbelt, or tool kit, or test bench.
Features:
Tests LIVE 120 VAC 19 Pin cables and connectors
Verifies power on each of the circuits
Diagnoses both broken and swapped wires and pins
Provides 3 diagnostic LEDs for each circuit, similar to popular electrician's single-circuit testers
Extremely convenient, compact and easy to use
Durable rubber construction…a great addition to any tech tool kit
Complete with canvas belt pouch
Pricing has not been released to the public.  To learn more about the Lex LSC 6Circuit Live Tester, visit their website at www.lexproducts.com.  For pricing, contact your local Lex Sales Associate.
Share

Comments