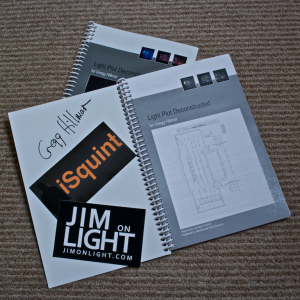 With the first part of the iSquint and Jimonlight Light Plot Deconstructed Contest over, Jimonlight.com is running the second part of the contest on his site.
We would like to thank all of those who left comments on the first part of the contest here on iSquint.  We love all of your comments and wish that we could give everyone a copy of the book.
If you didn't win, you still have another chance!  Head over to Jimonlight.com and leave a comment on Jim's contest page.  All you have to do is enter your name, email address, (which is not published) and a comment.  It is just that simple!
Thanks again to everyone that entered!  Learn more about Gregg Hillmar's latest book, Light Plot Deconstructed by visiting the books website at www.lightplotdeconstructed.com. You can read our review of Gregg's book here on iSquint.net.
Share

Comments