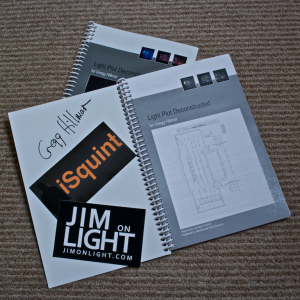 During the month of October, iSquint.net and JimOnLight.com will be running a very special contest together.  Rather then butting heads trying to out do each other with this contest, we decided to work together and give you, the value reader more chances to win.
Greg Hillmar, the author of Light Plot Deconstructed has graciously donated not one, but to copies book, AND signed for the contest. So what is the deal, what the contest, how do I win?
Easy, leave a message on the posting with your name, email address, (it will not be published), and a note, (if you want to, we love notes!). The first drawing will be taken from comments left on this posting on iSquint on Friday October 16.
The second part of the contest will be held on JimOnLight.com starting October 19 and conclude on Friday October 30.
Easy Right?!  So what are you waiting for?
Light Plot Deconstructed is a great companion guide for anyone seeking to learn the fundamentals of lighting design with Vectorworks Spotlight. You can read our review of Light Plot Deconstructed here on iSquint. If you can not wait to win one and want to purchase your own copy of Light Plot Deconstructed, visit www.lightplotdeconstructed.com to purchase it for $40.
Share

Comments