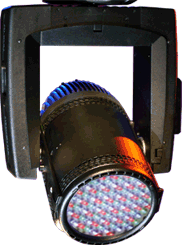 Just a few weeks ago, we reported a rumor that Vari-lite is in the process of developing an LED moving head. Many of the top lighting designers and dealers were able to view the fixture in a private room at LDI this past year in Las Vegas, at half power (because of limitations of the off the shelf power supplies) and reports were that they were all blown away. Today we have learned more details of the mysterious LED fixture called VLX. The VLX is rumored to be about the same body shape and size of the current VL500 fixture with close to the same weight, 43 lbs. (19.5kg). The VLX is heard to be as bright if not brighter then the VL2500 wash unit with an output of about 13,000 lumens. The fixture does not look like an LED fixture or perform like one, it works and looks, even from the front, like a standard fixture except the colors really pop and are completely homogenized when mixed.
While we were not able to determine what type of LEDs the VLX uses, it does use RGB (Red, Blue, Green) plus White LED's. An amber LED may be added in at a later time, but as many people in the industry know, amber LEDs are not quite as bright yet. What is truly amazing about these LEDs is that they are developed exclusively for Vari-Lite and does not use Color Kinetics or Philips brand LEDs. The VLX will also utilize a 3:1 zoom lens (LED zoom?) without the use of any sort of frost diffusion.
While information is scarce about the VLX right now, we can guesstimate that the fixture will be a little more than the price of a VL2500 Wash. Considering the cost of a moving light that still uses Metal Halide lamps and the VLX uses LED's, the fixture housing may die long before the LEDs do. We haven't heard anything about a release date, but chances are something will hit the market before the 2nd quarter of 2009. We also hear that the plan is to release an entire range of fixtures using this technology with par cans, cyc lights and exterior wash fixtures supposedly in the works.
To learn more about the entire line up of moving lights from Vari-Lite, visit their website at www.vari-lite.com.
Please note, the image in this post is a Photochop and NOT the actual image of the VLX.
Share

Comments