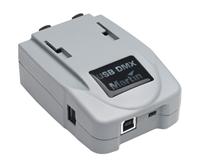 When ever Martin Announces or releases a new product, it seems like it comes in pairs or a whole bunch at once.  Following the announcement of the Martin One-Key, Martin Professional announces a new USB DMX device called Martin USB DUO DMX.
This new USB device carries two XLR 5 pins and the latest DMX implementation with RDM capability. Each Martin USB DUO DMX can be used to give two additional DMX outputs/inputs to the following software:  LightJockey II, M-PC Basic, M-PC Pro, MSD5, MaxModules, Martin M1 and Maxedia. Drivers for the Martin USB DUO DMX are available for Windows XP, Vista, and 32- or 64-bit Windows 7.
No information about pricing or availability has been made public yet, but as PLASA 2010 is right around the corner, there is a good chance you can see all of Martin's new offerings at their stand in Earls Court.
Share

Comments