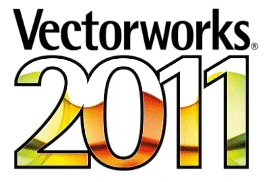 Earlier this week, Nemetschek announced the release of Vectorworks 2011 with all kinds of new features for each design element of the software package.  As lighting professionals, we mainly deal with Spotlight and there have been some huge new features added to help us accomplish our designs. Here is a listing of all the great new features available to us in Vectorworks Spotlight 2011.
Make 3D as Easy as 2D
Vectorworks software is now, more than ever, a true 3D modeling environment. 2D planar objects can be created and edited within a planar context, where they display with all their attributes. You can work in Top/Plan view as usual, or switch to a 3D view and continue working in the same way, with the same tools and operations!
Best in Class Render Engine
Renderworks 2011 is faster, easier, and more powerful than any of our previous versions. Now based on the robust CINEMA 4D render engine, the results are breathtaking and easier to achieve. Our new engine is fully integrated into Vectorworks, so it works seamlessly to allow you to visualize your work throughout the design process, producing clear and accurate renderings. With the click of a button, rendered viewports will update as your design evolves.
Easy-to-use Spotlight Tools
With the Vectorworks Spotlight 2011 version, you'll see changes that will help you design lighting, scenery, sets, corporate events, theatrical productions, or exhibits with minimum time and maximum ease. New features like better focus point support make visualizing your models more intuitive. New seating layout options give you more options when designing events and shows. And new LightwrightTM enhancements make sharing information very simple. With Vectorworks Spotlight 2011 software, your designs will be stronger and smarter than ever.
Exceptional Text Capabilities
The Vectorworks 2011 version is packed with new and improved text capabilities. Text styles, perfect preview of text while editing, improved text fills, and easier access to check spelling are just some of the new options that make creating text even better.
Top 11 features in Vectorworks Spotlight 2011
1.    Improved 3D Environment
The 3D environment is much more intuitive in the Vectorworks 2011 software. Working in 3D is similar to the ease of 2D, for a truly unified and simplified experience. You can:
Draft any shape, on any plane, in any view, using the tools you already know how to use
Edit planar objects from any view using familiar 2D operations • Dimension objects in any plane
Display graphic attributes of planar objects in any view
Working in 3D has never been easier.
2.    Push/Pull Tool
The tool's name tells you how it works—just "push" and "pull." The Push/Pull tool can edit solid faces and planar objects just like it would in the real world, so you get dynamically interactive feedback and instant results as you work.
3.    Extract Planar Objects
Now the Extract tool can create instant planar objects from a 3D surface in the Extract Surface mode, so you can simulate the appearance of a hatched 3D object.
4.    Design Layer Section Viewport
Create section viewports directly on design layers so you can create elevation views right on the design layer. These section viewports can be referenced into other files for enhanced team workflows.
5.    Better Focus Point Support for Lighting Instruments
Now you can focus light exactly where you need it most. Lighting instruments and everything associated with them—their light source, accessories, associated 3D geometry, and beam—now always point toward your desired focus point, both when there are actual focus point objects or virtual representations displayed in design layer viewports. No other software package can boast the ability to properly represent a lighting design with non- horizontal lighting positions in Top/Plan view and then render the model in 3D.
6.    Lightwright Data Exchange Improvements
The automatic data exchange with Lightwright can now:
Place new lights created in Lightwright between existing lights on a lighting position
Allow Lightwright to set the selection state of lighting devices when updating
7.    Automatic Position Sensing Preferences
Gain even more control over lighting device placement by disabling the automatic positioning option and specifying a custom pick radius.
8.    "Perfect Preview" Text Editing
We're taking the guesswork out of your work. With perfect text preview, text appears the same when editing as it does on the drawing, saving you time and effort. Rotated text can be edited in place, or un-rotated if needed.
9.    Text Styles
Use text styles to quickly and easily apply and maintain a consistent look to all text throughout a file, including text in sheet borders, dimensions, and callouts. Text styles are resources that can be shared among files to facilitate compliance with office standards.
10.    New Scalable Symbols
Now you can adjust the scale of a symbol right from the Object Info palette, without having to create a new symbol for each size that you need. When you import symbols, you won't get a new symbol for each size, simplifying your files. That's not all—symbols can now be page-based or world-based when created, so if you have an annotation symbol, it will always display at the size you want.
11.    New Renderworks with CINEMA 4D Render Engine
Introducing the award-winning CINEMA 4D, the exciting and powerful new 64-bit render engine in the Renderworks 2011 version. Together, they provide dramatic speed and quality gains, with a robust integrated rendering option that's right inside your Vectorworks application. You'll be blown away by simpler, more intelligent controls, and render speeds that are five to seven times faster for indirect lighting rendering!
There are many other areas of improvement including simplified file exchange features, and a number of significant usability improvements. Please check out www.vectorworks2011.net for full details of Vectorworks 2011.
Share

Comments