On Thursday, May 12th, 4Wall Lighting New York held their annual Vendor Showcase in their New Jersey warehouse.  This is my second vendor showcase that 4Wall Lighting has invited me to and it was just like the DC Open House… Excellent!  4Wall turned part of their massive New Jersey warehouse in to a mini trade show, minus all of the fancy trade show decorations, carpeting and drapery. Instead, they wheeled out road cases from the rental department, one for each manufacture that will be exhibiting and place a sheet of plywood over it and a table cloth, done. We are lighting people, we are use to being in shops and backstage, we don't need the glitz and glamor, just show us the lights! 4Wall understands this and gives us attendees what we want, time to look, play, ask questions and grab a burger and beer. It is that KISS philosophy that I love.
The New York Vendor Showcase was well attended.  Al Ridella, VP of Business Development in the New York office guesstimated about 150 to 175 people came to the showcase between 3pm and 7pm with a couple of stranglers hanging on past 7pm to make sure they hit all the exhibitors… including me.  Jim Cannon, VP of Rental Operations for New York and his crew were busy manning the grills as well as still prepping rentals all during the showcase.  I have to hand it to Jim, he grills a bad ass burger!
It was great to see familiar faces, like the smiling face of JC More from City Theatrical, and Mr. Chad Rosco Tiller.  It was also wonderful to meet many new people from around the industry. It always happens, you talk or email with someone for months and months and then finally you get to meet them in person at an event like this.  Had that happen just a couple of times on Thursday.
What about new products! 4Wall invited over 45 manufacturers to exhibit at their showcase and boy did they turn out.  The list is pretty extensive!  Rather then listing everyone AGAIN, check out the list on 4Wall's event page. Looking back over the list, I don't remember seeing a couple of manufacturers there like my good friends at SeaChanger, Mr. Field Template himself, Steve Shelly or the guys from Wybron.  I expected to see the Wybron truck there as Martin Professional had there truck. I am sure everyone is off working and keeping pretty busy. We'll catch them soon some where I am sure.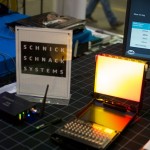 One of the neatest things on display was TMB's latest product form Schinick Schnack Systems out of Germany. TMB is now distributing the Schnick Schnack LED panels in the US market. The panels are pretty neat, at least from the 6″ demo model at their table.  You can create a low res video display with a diffuse acrylic panel in front of it for 60's style mood panels and trippy effects.  There is a wide range of panels and options available.  To learn more about the panels, visit their website at www.schnickschnacksystems.com. You will have to contact TMB or your local TMB dealer for pricing as it is a POA system.
Some of the other neat things seen at the Vendor Showcase was the New Impression Spot One LED Profile Moving Head available from GLP Lighting. Robe Lighting was on hand with their new ROBIN 600 LEDWash moving head and the ROBIN MMX Spot Moving Head. The Blank Tank company was showing off their full line up of 4″ cube LED wash fixtures. They are gearing up to release a couple of new products such as a variable white wash fixture and another "option" that I cannot mention yet… just know that I want one!
Overall, I had a blast at the 4Wall New York Vendor Showcase.  A huge thanks to 4Wall Lighting for inviting me up to the party… I mean showcase! ;) Learned a lot, got to meet new and old friends and had some great food. It's funny, four hours seems like a long time for an event, but it always happens, it is over so quick and I never get around to everyone! Still, great times!
4Wall posted a bunch of photos to their Facebook page already.  I didn't get a chance to snap to many photos, but I did see 4Wall guys running around snapping pictures every where and doing interviews with exhibitors through out the day.  Keep a look out for more photos and videos from 4Wall… Who know, you might see me in one!
Thanks for having me up, see you in LA? ;)
Share

Comments