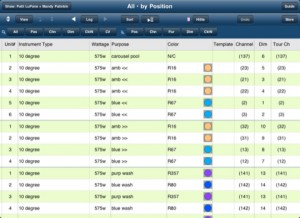 Yes, the day has come. When the iPad was announced over a year ago, people went ecstatic. Then came the dreamers, what can we do with the iPad, how can it make our lives easier? In the lighting industry, it was easy, put Lightwright onto the iPad. It took almost a year since the iPad was released into the wild, but that dream has become a reality. At LDI 2010, we got our first look at Lightwright on the iPad, four months later, I am giddy as a school girl updating my patch and focus notes on my iPad, in Lightwright!
West Side Systems, the app developer that has brought us such wonderful apps like BeamCalc, Power Saver and more has just released their latest iPad app into the iTunes App Store, Lightwright Touch.
More about Lightwright Touch
Lightwright Touch provides mobile viewing and editing of Lightwright® 5 lighting equipment data. If you use Lightwright, or schedules and hookups printed from Lightwright, this is the portable, navigable, editable worksheet tool you have been waiting for.
Export shows from Lightwright 5 and sync to Lightwright Touch through iTunes, or email, or file sharing
Store multiple shows on Lightwright Touch
View and Sort your worksheet using familiar Lightwright functions
Columns can be added, removed, and rearranged to best suit your mobile needs
New "Log" feature speeds selection of prior view/sort displays
Edit worksheet data quickly with popup lists
Add a note to any worksheet row, or to a general notes page
Transfer shows back to Lightwright for reconciliation with the original show file
View and email notes or your changes
Works with files exported from Lightwright 5.0.22 or later, but you do not need to own Lightwright to use Lightwright Touch. You can download Lightwright 5.0.22 or later from John Mckernon's website www.mckernon.com. Lightwright Touch is available through the iTunes App Store for $49.99 USD.
Share

Comments