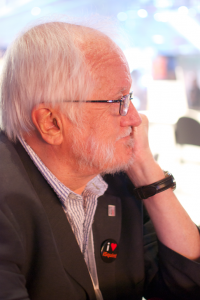 Internationally award winning lighting designer and author Richard Pilbrow is set to release a new book this summer, A Theatre Project: A Backstage Adventure.  Mr. Pilbrow is the author of such industry books as Stage Lighting Design which was first published in 1970 and is still and industry staple for upcoming professionals.
Mr. Pilbrow's latest book, A Theatre Project tells the remarkable story of an upstart company  in the world of British Theatre that did much to create the professions of stage lighting, sound design, and theatre consulting. Theatre Projects has today become the world's leading theatre design consultancy.
This gripping, behind the scene tale reveals how Theatre Projects came to revolutionize stage lighting, sound and theatre technology. A THEATRE PROJECT is a spellbinding backstage adventure that will challenge, provoke, entertain, and inspire all who love and work in the magical world of theatre.
Mr. Pilbrow's book will be published by PLASA Media and will be available in June 2011.
Share

Comments