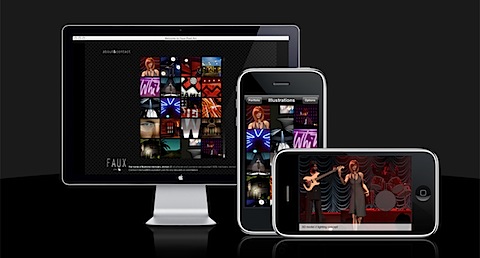 Michael Zinman the lighting designer and iPhone app developer guru has announced the release of his latest iPhone app, Portfolio. Portfolio joins Michael's other iPhone applications such as PcoketLD and iSwitch DMX and GelCalc.
Portfolio is designed to enables users to organize their photos and images into category folders and sub folders right on their iPhone. Folders are able to have custom names and can be sorted and displayed by the users choice. Images can be synchronized to a free Google Picasa Web Album to keep your Portfolio in touch wirelessly.
Features:
Slideshow with 4 different transitions

Create multiple albums and sub folders

Similar navigation to Photo App

Support for Portrait & Landscape orientations

Easy and quick to setup
Within each individual folder or sub folder you can:
Toggle captions on and off

Set caption background color to either black or white

Set caption background opacity between 10-100%

Set Slide Show animation and duration

Shuffle Slide Show Animation on/off
More Options:
Upload your own thumbnail images or let Portfolio create them for you.

Synchronize either individual albums or all albums at once.

Remove individual albums from Portfolio.
To learn more about the Portfolio App for the iPhone and iPod Touch, visit www.portfolioapp.net. To purchase the Portfolio App for $0.99, visit the iTunes App Store. Look for a full review of Portfolio here on iSquint.
Share

Comments