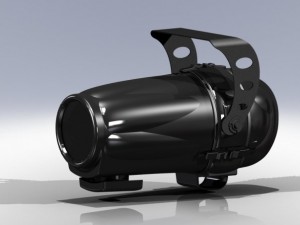 We received an interesting note from our leak deep with in the Largo Florida headquarters of SeaChanger with more information on the Newest Nemo Family member, the Nautilus.  Late last week we mentioned the Facebook announcement of the image that SeaChanger posted about the Nautilus.  Some eagle eyed readers pointed out that the image to the right looked a lot like the Tempest Lighting Storm outdoor enclosure.
Well, our leak has provided us with even more details:
The Nautilus is the latest in the SeaChanger line of dichroic color changers designed to deliver an energy-efficient class of high intensity lighting, using proven plasma technology. Nautilus is the first outdoor color engine with a LIFI® plasma source that delivers 10,000 lumens out of the fixture while using only 320 watts of power. The LIFI® source leads a new class of solid-state plasma light sources that combine the best features of solid-state electronics and full spectrum plasma emitters.  The results are long-life, energy efficiency and complete color spectrum for general and specialty lighting applications.

With a lamp life of 15,000 hours, Nautilus is the perfect solution for hard-to-reach installations, domes, atria and theme parks. The Nautilus has a CRI of 92, making it an ideal fixture for museum and gallery lighting. The weather-ready Nautilus, with an IP54 rating, is perfectly suited for lighting applications in theme parks, zoos, gardens and outdoor festivals. Using patented dichroic filter technology, Nautilus creates millions of rich and reproducible colors with white-to-full saturation color transitions in less than one second.  The filters provide higher transmission efficiency than gels and other materials, and are resistant to temperature and humidity. Versions are available to suit any application in architectural and landscape lighting.

Nautilus is a product of SeaChanger, based out of Largo, FL, who created a milestone in the evolution of theatrical lighting — the CYMxG color changer for ETC Source Four Ellipsoidals. Through unique, patented processes, the ESTA, LFI Innovation and NAB Mario Award winning SeaChanger line of fixtures yields the most robust and highest transmission dichroics available. You control the color, intensity and saturation of theatrical and studio lighting with unprecedented levels of precision and ease.
Look for more information to come with the official release of the Nautilus at LDI this year in Orlando Florida.  You can get more information about the Nautilus by visiting SeaChangers web site at www.seachangeronline.com.
Share

Comments